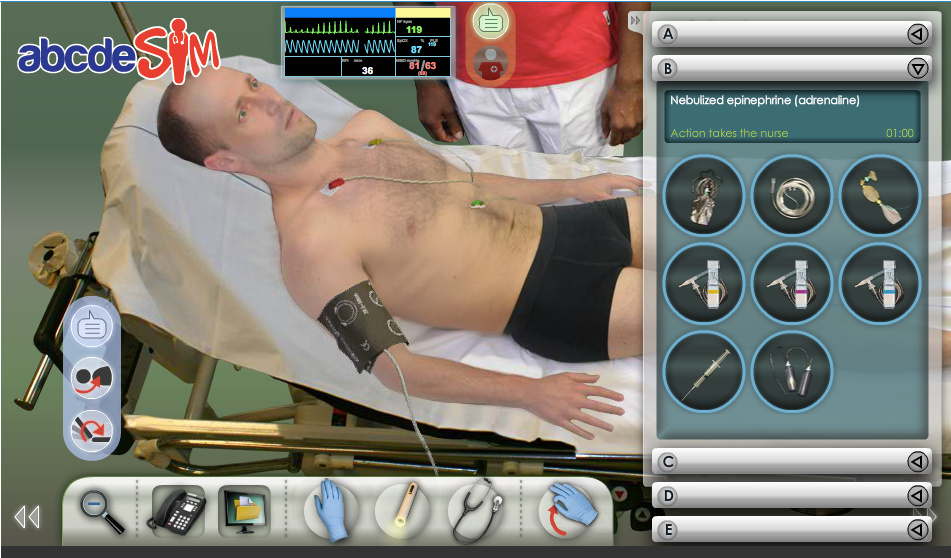 Now even more relevant then ever!
In an attempt to provide a positive contribution to the negative impact of the COVID-19 pandemic, we (VirtualMedSchool and IJsfontijn) decided to organize an online battle and offer free access to one level of AbceSIM for students who are currently not able to attend their offline classes.
The students can acquire new, or hone existing skills in a virtual environment. The battle is open for medical and health students as well as residents.
We have a price for the student with the highest score! Want to join? Just fill in the contact form here below and you will receive your personal activation code.
What is AbcdeSIM?
Training doctors and nurses for emergency situations is a vital part in medical and health education. Using the latest online gaming technology and a medical simulation based on a proprietary physiological model of the human body, we created a new and innovative program to teach emergency skills to doctors and nurses, according to the internationally known and used ABCDE-method: abcdeSIM.
AbcdeSIM is an online simulated emergency department with virtual patients. In an online realistic and immersive emergency department, environment doctors and nurses are challenged to care for the sickest patients. Mistakes made in online patients are not fatal as in real-life, but important learning points, thereby improving everyday patient care. Players learn to accurately assess the medical condition of each patient, recognize life-threatening illnesses and injuries, and resuscitate and stabilize in ordered priority. For more information on the concept click here.